This event is over.
She Found Joy Ladies Night Out
Lauren Gaskill, Heather Dixon, Bekah Pogue, Stephanie May Wilson, Sarah Philpott, Katie Reid, Barb Roose more
For more information
615-724-7991
Organized by Lauren Gaskill Inspires
As women, we don't spend enough time with each other, let alone make time for ourselves to get away with God. She Found Joy Ladies Night Out provides the connection and soul care we all need by bringing communities closer to Christ in a time of food, fellowship and fun.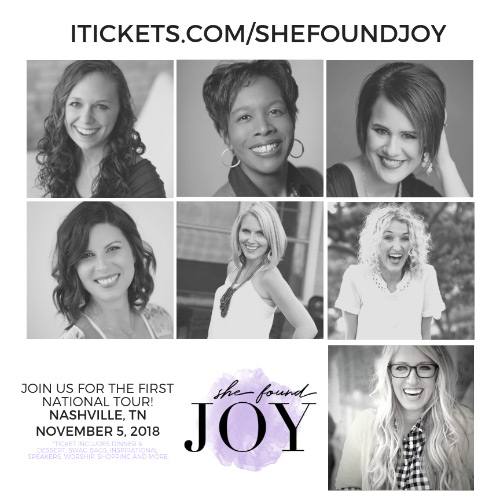 br>

Price Deadline:
All tickets come with a community dinner and dessert, free swag bag and access to She Found Joy Ladies Night Out keynote messages, Q+A speaking panel and worship.

VIP ticket includes a signed copy of She Found Joy Ladies Night Out founder Lauren Gaskill's debut book "Into the Deep: Diving into a Life of Courageous Faith" and a 5-5:45 PM meet and greet with all speakers before the event.

General Admission
$50.00
Buy a Table (Price is per ticket; 8 total come with a table)
$46.00
VIP - Free Book & Speaker Meet and Greet
$60.00