Acting Up Presents Barefoot in the Park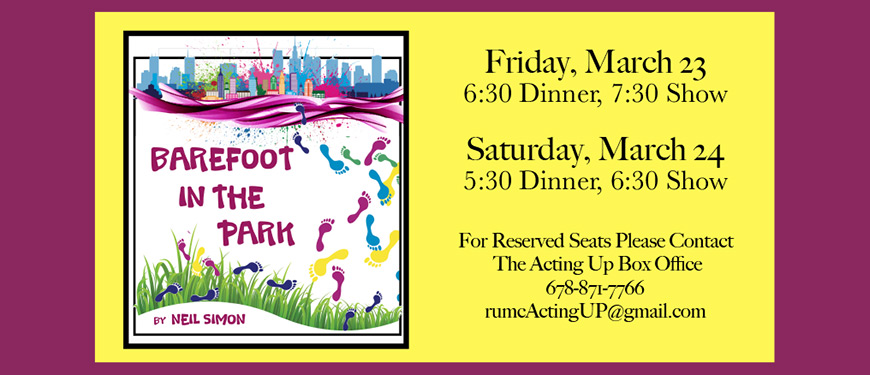 For more information
Organized by Roswell United Methodist Church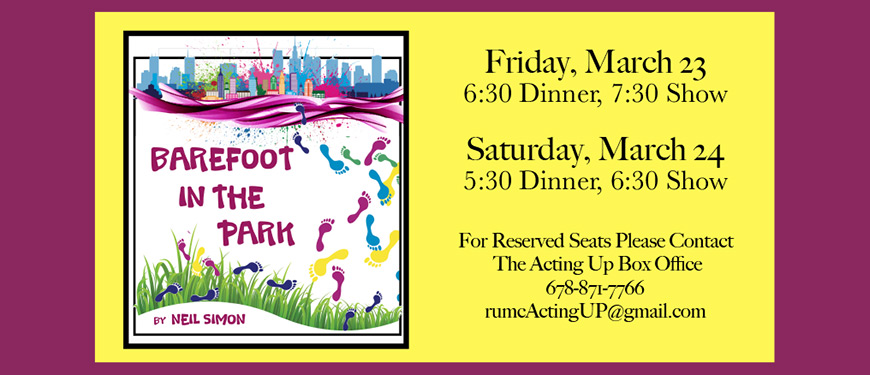 For reserved seating call 678-871-7766

$15 general admission ticket includes dinner & show

Doors open 20 minutes prior to the dinner.

Friday includes dinner at 6:30 PM, Show at 7:30 PM
Saturday includes dinner at 5:30 PM, Show at 6:30 PM

Dinner Menu (included with admission):
Pot Roast
Mashed Potatoes
Green Beans
Roll
Chocolate Cake
Tea, Coffee, Water

Barefoot in the Park is another classic comedic play by the mastermind Neil Simon. Set in New York city, Paul and Corie Bratter are newlyweds in every sense of the word. He's a straight-as-an-arrow lawyer and she's a free spirit always looking for the latest kick. Their new apartment is her most recent find – too expensive with bad plumbing and in need of a paint job. After a six-day honeymoon, they get a surprise visit from Corie's loopy mother and decide to play matchmaker during a dinner with their neighbor-in- the-attic, Velasco, where everything that can go wrong, does. Paul just doesn't understand Corie, as she sees it. He's too staid, too boring, and she just wants him to be a little more spontaneous. Running "barefoot in the park" would be a start...