Robin Mark Live in Concert
Order by Phone
1-800-965-9324
Note: Fees may apply
For more information
603-532-4432
Organized by Hillfest Events
For more information, email:
concerts@hfcnh.org
A VIP ticket includes early admission to the event (6pm) and allows you the first choice of seating.
Robin will be sharing on many different aspects of worship from 9am to 12pm. This interactive time will delve into topics such as "PRAISE". The doors open at 8:30am.
Why is praise so important and what is the true dynamic of praise? Is it the same as worship? How important is it to get a correct perspective on one of the Scriptures' most common instruction? This will be a very open session with a general time for Q&A as well. This ticket is not included in the purchase of ticket to the concert.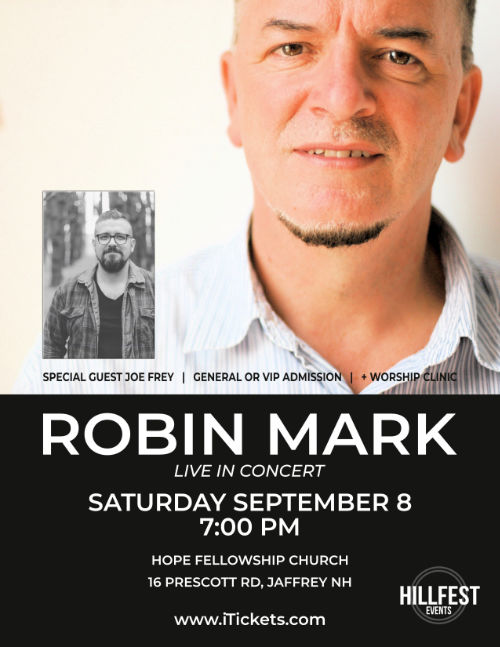 Price Deadline:
CONCERT TICKETS

A VIP ticket includes early admission to the event (6pm) and allows you the first choice of seating.

VIP - 6:00pm Early Entry
$35.00
$45.00
Standard
$20.00
$30.00
WORSHIP CLINIC

The doors for the worship clinic will open at 8:30am. The clinic will begin at 9:00am.

Worship Clinic Add-On - 8:30am Doors
$15.00
$25.00
Worship Clinic Only- 8:30am Doors
$25.00
$35.00