This event is over.
She Found Joy 2019 Tour
Lauren Gaskill, Kate Batistelli, Niki Hardy, Csilla Muscan, Jennifer Konyn more
For more information
615-599-1580
Organized by Lauren Gaskill Inspires
Do you need a fresh outpouring of joy, hope, love and encouragement? Gathering as a sisterhood in God's presence can provide your soul with what it's longing for.
She Found Joy
is a one-night experience where women of all ages come together for a time of worship and teaching to rediscover an authentic joy in Jesus.
Come find community and rest for your soul; discover how to seek, live and give joy to a world that's so in need of it; and experience God's presence like never before.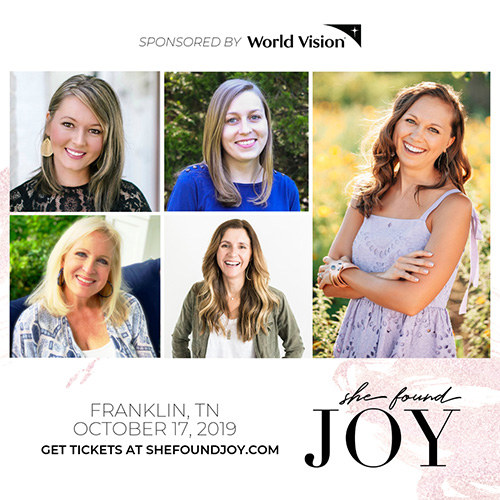 About Our Keynote Speakers
Lauren Gaskill
Lauren is the author of "Into the Deep: Diving Into a Life of Courageous Faith," a national speaker and the president of She Found Joy. She is passionate about helping others encounter Jesus in a way that refreshes their faith and fills them to overflowing with His love and joy.
Kate Batistelli
Kate Battistelli is living proof that God can and will use anyone if they're willing. Kate experienced infertility, miscarriage, an abortion at age 18, and four failed adoption attempts; which all wreaked havoc on her life. Kate had a life-changing experience as a young actress in New York City, going from understudy to starring as Anna in the Broadway National Tour of The King and I opposite Yul Brynner for more than 1,000 performances. Kate and her husband laid down their careers and the Broadway theatre in answer to their first "God dare" and moved out of New York City and into a life of homeschooling and a home business. As their daughter grew and began expressing her gifts in music and songwriting, they learned there was a bigger purpose in leaving their careers than they had imagined. Kate is the mother of GRAMMY-Award winning Christian recording artist Francesca Battistelli. Kate is a natural encourager and believes in people's ability to change the world.
About Our Panel Speakers
Jennifer Konyn
Jennifer is a native of Nashville, TN and currently lives in her childhood home with her husband, dog, and two cats. She spends much of her time at home tending to their vegetable garden and caring for their six chickens. At her home church, Jennifer has lead missional communities, participated in multiple discipleship groups, and helped shepherd adults and youth throughout the confirmation process. She and her husband are expecting to bring home their first child through adoption in November of this year. Jennifer works as a potter, serves as board president for the non-profit organization Poverty and the Arts in Nashville, and serves as a community volunteer through the Junior League of Nashville. She completed the inaugural round of Jess Connolly's Go + Tell Gals coaching program in 2018. She hopes to use her gifts as a faith writer and speaker to help young women develop a strong foundation for their relationship with Jesus Christ so they are able stand victorious against the enemy throughout their lives.
Csilla Muscan
As a Christian solo artist, speaker, and certified leadership coach, Csilla has spent most of her life performing and speaking to audiences around the globe sharing the stage with Kelly Minter, Annie Lobert, Dan Miller and more. She is living proof that by daring to be all God created you to be, you can move from a mess to a beautiful message. Her greatest desire is to encourage and empower women to live every day with purpose, courage, and authenticity.
About Our Emcee
Niki Hardy
Niki Hardy is a Brit in the USA, a rectal (yes, rectal) cancer survivor, pastor's wife, tea drinker and teller of bad jokes. As a speaker and the author of Breathe Again: How to Live Well When Life Falls Apart (Revell, Aug, 2019) she's all about meeting us when life's not fair and embracing the reality that with God, life doesn't have to be pain-free to be full. You can grab her free resources at NikiHardy.com and find more encouragement on Instagram @niki.hardy and Facebook @NikiHardyauthor
Price Deadline:
General Admission
General Admission
$29.00
Group General Admission (5+)
$23.00
Reserved

Reserved Seating is located behind/around VIP seating.

Reserved
$39.00
Reserved Group (5+)
$39.00
VIP

The VIP package includes premium seating, a copy of Into the Deep by Lauren Gaskill and Breathe Again by Niki Hardy.

VIP
$64.00