This event is over.
She Found Joy 2019 Tour
Lauren Gaskill, Amy Odland, Jennifer Dukes Lee, Shauna Letellier more
For more information
574-293-4469
Organized by Lauren Gaskill Inspires
Do you need a fresh outpouring of joy, hope, love and encouragement? Gathering as a sisterhood in God's presence can provide your soul with what it's longing for.
She Found Joy
is a one-night experience where women of all ages come together for a time of worship and teaching to rediscover an authentic joy in Jesus.
Come find community and rest for your soul; discover how to seek, live and give joy to a world that's so in need of it; and experience God's presence like never before.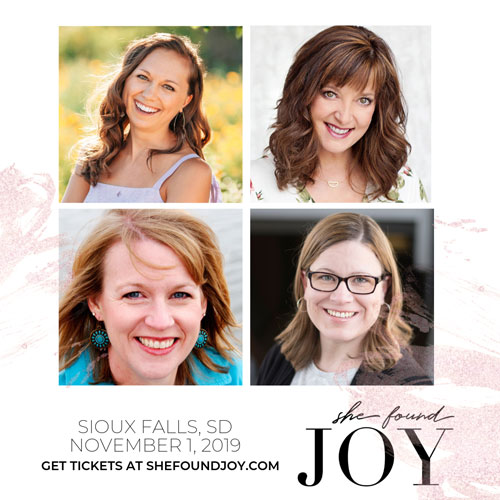 About Our Keynote Speakers
Jennifer Dukes Lee
Jennifer Dukes Lee is the author of "It's All Under Control, "The Happiness Dare" and "Love Idol." She is a popular blogger, writer for Dayspring's (in)courage, and a speaker at women's conferences across the United States. Her words have been featured on numerous podcasts, radio programs, Proverbs 31 Ministries, Fox News Opinion, the Des Moines Register, and Today's Christian Woman. A former news reporter for several Midwestern newspapers, Jennifer still loves to chase a great story. Nowadays, however, she prefers to write about the remarkably good news of Jesus Christ. Jennifer is known for her authentic voice as she encourages women to walk in freedom. She clings to the hope of the Cross and is passionate about sharing the gospel through story. She believes in miracles; she is one. She marvels at God's unrelenting grace for people who mess up—stumbling sinners like her, who have been made whole through Christ. Jennifer and her husband live on the Lee family farm, where they raise crops, pigs, and two humans. She attends a small country church where some Sundays you'll find her spinning tunes as the church deejay. She's a big fan of dark chocolate, emojis, eighties music, bright lipstick, and Netflix binges. She wants to live life in such a way that you can't help but want more of Jesus. Visit Jennifer online at www.JenniferDukesLee.com. She invites you to join her on Twitter and Instagram, @dukeslee, and on Facebook at www.facebook.com/JenniferDukesLee.
Lauren Gaskill
Lauren is the author of "Into the Deep: Diving Into a Life of Courageous Faith," a national speaker and the president of She Found Joy. She is passionate about helping others encounter Jesus in a way that refreshes their faith and fills them to overflowing with His love and joy.
About Our Panel Speakers
Amy Odland
Amy Odland is a work-at-home-mom who spends most of her time keeping track of her 4 kids and the 4 businesses she helps her husband of 23 years manage. She has enjoyed developing other "bookish" side hustles in recent years - book launching and developing her writing skills for hopes of future book deals - all in the fringe hours of her current busy season of life. She is still trying to find her own writing voice and online community of people, but has enjoyed helping others get their books launched out into the world in the meantime. She has participated on over 80 launch teams since January 2016 and in the last year has started leading launch groups for publishing companies and authors as an independent contractor.
Shauna Letellier
Shauna Letellier is the author of Remarkable Hope: When Jesus Revived Hope in Disappointed People. Drawing upon her degree in Biblical Studies, she weaves strands of history, theology, and fictional detail into a fresh retelling of familiar Bible stories on her blog and in her books. With her husband Kurt, she has the wild and hilarious privilege of raising three boys along the banks of the Missouri River where they fish, swim, and rush off to ball games.
Price Deadline:
General Admission
General Admission
$29.00
Group General Admission (5+)
$23.00
Reserved

Reserved Seating is a general admission section located behind/around VIP seating. It is first come first serve within the Reserved section.

Reserved
$39.00
Reserved Group (5+)
$33.00
VIP

The VIP package includes premium seating, a copy of "Into the Deep" by Lauren Gaskill and "It's All Under Control" by Jennifer Dukes Lee.

VIP
$64.00