This event is over.
She Found Joy 2019 Tour
Lauren Gaskill, Amy Elaine Martinez, Jennifer Howat, Jennifer Attebery, Christy Johnson more
For more information
(574) 612-0689
Organized by Lauren Gaskill Inspires
Do you need a fresh outpouring of joy, hope, love and encouragement? Gathering as a sisterhood in God's presence can provide your soul with what it's longing for.
She Found Joy
is a one-night experience where women of all ages come together for a time of worship and teaching to rediscover an authentic joy in Jesus.
Come find community and rest for your soul; discover how to seek, live and give joy to a world that's so in need of it; and experience God's presence like never before.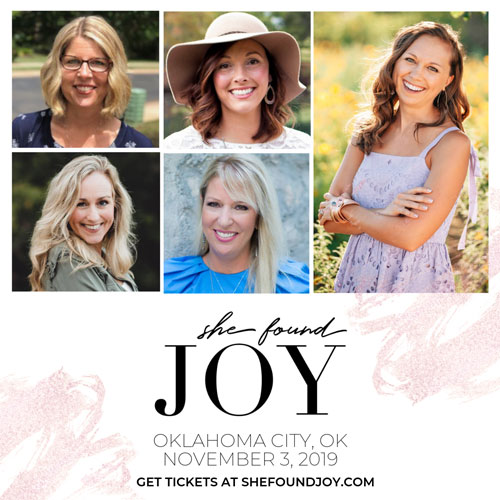 About Our Keynote Speakers
Lauren Gaskill
Lauren is the author of "Into the Deep: Diving Into a Life of Courageous Faith," a national speaker and the president of She Found Joy. She is passionate about helping others encounter Jesus in a way that refreshes their faith and fills them to overflowing with His love and joy.
Christy Johnson
A microphone is like a stick of dynamite in Christy's hand. As a relationship and soul-health coach, popular national speaker, author and Executive Director of Living Soul, Christy's driving passion is to help women find hope and strength in the aftermath of betrayal and brokenness caused by abuse or toxic relationships. Christy has spent the last ten years speaking to women's groups sharing transparently about her journey out of domestic abuse, relationship addiction and the process of forgiving her offender. Her life took a dramatic turn after the death of her two-year old son, Jake, who died in a tragic car accident while her ex-husband was driving under the influence of several drugs. In the midst of her darkness, however, Christy found hope. She often relates, "Every shard of pain prepared me for my purpose. I knew my destiny the day my son died." Fueled by a passion to see other women set free, Christy set aside her career in banking to begin writing and speaking. Audiences respond instantly to her warm personality, but when they hear her story they witness the undeniable power of God in the midst of tragedy. Christy's journey through abuse and forgiveness gives her a unique boldness, authenticity and authority to challenge other women to race after their own freedom and find healing for their souls. Christy and her husband John have been married for 20 years. Together they have three adult children. All three have flown the coop and her and John live in Edmond, Oklahoma with several ceramic dogs.
About Our Panel Speakers
Jennifer Howat
Jen is a writer, speaker, pastor, and the creator and host of the Giving Up Normal podcast. Her passion is to help people who have overstuffed lives and undernourished souls to fully live as the person God has created them to be. She and her husband have been married for over 20 years and have a son who is transitioning into adulthood. She loves hanging out with family and friends, drinking too much coffee, sports, shiplap, the beach and her German Shepherd Bear. You can connect with her at jenhowat.com, Instagram: @jenhowat, Facebook: jen.howat
Jennifer Attebery
Hello! My name is Jennifer Attebery. I am a wife, mother, small business owner and Christ follower! My husband, Brian, and I have been married for 17 years and have owned Results Fitness & Nutrition Center for almost 16 years. We have a son named Cannon and a daughter named Caris. High school and middle school are that stages we are in! We recently stepped out of our comfort zone and purchased our own building to move our business to. We didn't stop there! We also added a new business in- side our new building! We have definitely had some VICTORIOUS moments come from the whole process! I am also an aspiring writer who longs to leave fear behind and claim additional victories for the Kingdom by sharing the unique gifts God has given me. Getting my blog up and running has been over a decade in the making. I am so thankful to those who have encouraged me, been patient with me and shared their gifts and talents with me as well! I believe we are all unique and born with beautiful gifts, talents and insights that only we can share with the world! Even though I believe this, I'll be the first to admit it's easier to believe it about others than it is to believe about myself. That's where relationships come into play! I want to lead a life of encouraging others to find their "why" and help them to see that, they too, can be VICTORIOUS!
Amy Elaine Martinez
Amy Elaine is an inspirational speaker, radio show host, and gifted teacher. She's the President and Founder of Amy Elaine Ministries. Her ministry is devoted to helping women with heart-shattered lives become whole again in Christ. She lives part time in both beautiful Castle Rock, CO and historic Guthrie, OK. In July 2018, she launched Real Victory Radio where you'll hear all about getting REAL: Ready & Equipped for an Authentic Life of Victory RVR is heading into their second year and airs Saturdays at 6 am and 4 pm MST. And, even if you're not in the Denver area, you can live stream from just about anywhere at 947FMTheWord.com (a Salem radio affiliate). Married over 25 years to the love of her life, David, Amy Elaine is a boy-mom to Sidney (23) and Gabriel (20). Recently, their family grew with the blessing of a daughter-in-love, Riley, and an Australian Shepherd, named Maverick. Her heart's desire is to see women walk in wholeness and develop an intimate relationship with Jesus Christ. Living in victory is one of the major themes of her ministry. You can read more at: AmyElaine.com
Price Deadline:
General Admission
General Admission
Group General Admission (5+)
Reserved

Reserved Seating is located behind/around VIP seating.
Reserved
Reserved Group (5+)
VIP

The VIP package includes premium seating, a copy of Into the Deep by Lauren Gaskill and Breathe Again by Niki Hardy.
VIP