She Found Joy 2019 Tour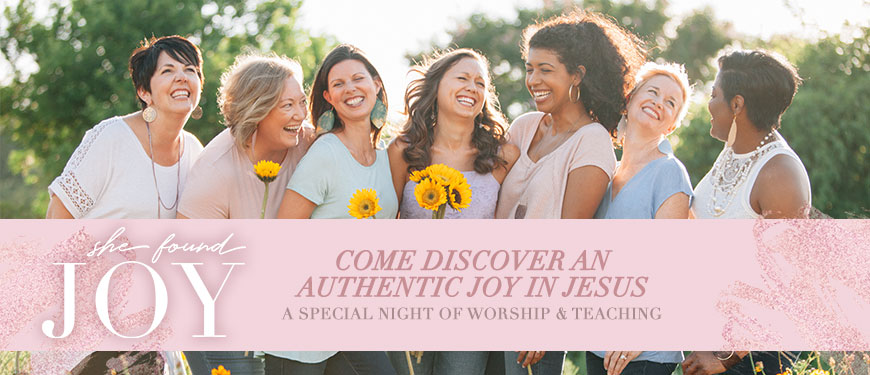 For more information
Organized by Lauren Gaskill Inspires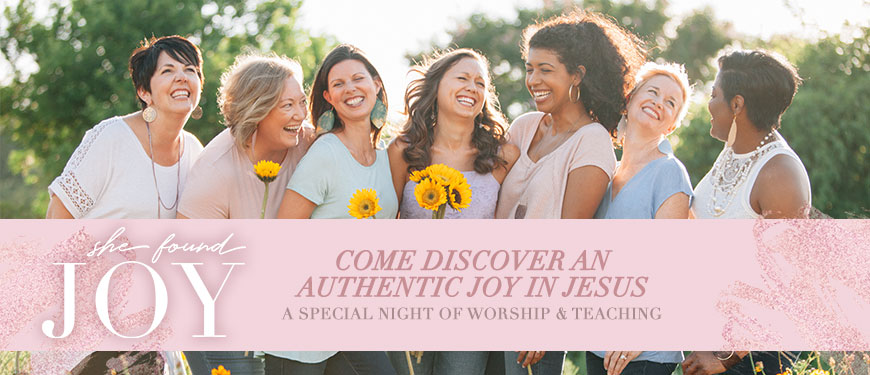 Do you need a fresh outpouring of joy, hope, love and encouragement? Gathering as a sisterhood in God's presence can provide your soul with what it's longing for.
She Found Joy
is a one-night experience where women of all ages come together for a time of worship and teaching to rediscover an authentic joy in Jesus.
Come find community and rest for your soul; discover how to seek, live and give joy to a world that's so in need of it; and experience God's presence like never before.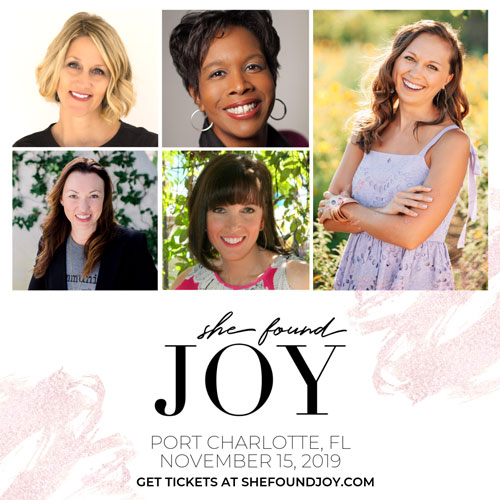 About Our Keynote Speakers
Melinda Means
Melinda Means is a woman who was radically changed when the God she thought she knew since childhood opened her eyes to the overwhelming depth of His love for her. She loves speaking, writing and pointing women to the Father so they can experience for themselves the healing power of His incredible, captivating love. She is the co-author of Mothering From Scratch: Finding the Best Parenting Style for You and Your Family (Bethany House, 2015) and author of Invisible Wounds: Hope While You're Hurting (2016). She is also an artist, as well a certified professional life coach and writing coach. Melinda is the Director of Women's Ministries at her church in southwest Florida and a Writer/Speaker with the national ministry She Found Joy. She is husband to Mike and mom to two very entertaining young adults.
Barb Roose
Barb Roose is a popular speaker and author who is passionate about equipping women to win at life with Christ-empowered strength and dignity. Since 2005, Barb has been speaking to audiences in the US and abroad, including national platforms such as the Aspire Women's Events, She Found Joy, She Speaks Conference, and the UMC Leadership Institute. She's a Bible teacher who loves following God more than anything else in life. Barb makes God's Word come alive through powerful teaching, personal stories and practical next steps. Audiences love her authenticity and humor. She's a real woman who has experienced depression and anxiety, parenting challenges, family addiction trauma and long seasons of walking by faith in unanswered prayer. Rather than teaching audiences to follow God to get what they want, Barb inspires audiences to discover that God is all they need! Barb is the author of multiple books and Bible studies, including her current releases: I'm Waiting, God: Finding Blessing in God's Delays, Winning the Worry Battle: Life Lessons from the Book of Joshua and Joshua: Winning the Worry Battle. An avid traveler, reader, and lover of all things chocolate-peanut butter; Barb and her family live in NW Ohio. Visit Barb's online home at barbroose.com.
About Our Panel Speakers
Lauren Gaskill
Lauren is the author of "Into the Deep: Diving Into a Life of Courageous Faith," a national speaker and the president of She Found Joy. She is passionate about helping others encounter Jesus in a way that refreshes their faith and fills them to overflowing with His love and joy.
Summer Gordon
Born and raised in the sunshine state, Summer is a wife, mother, author and speaker whose passion is to help others look beyond life's circumstances and fix their eyes on Jesus. Summer and her husband, Reppard, are currently co-writing their first book, which was birthed out of the tragic and sudden loss of their five-year-old son. Sharing their story has become a life giving calling for Summer. It is her prayer that their testimony would reflect the light of Jesus and point others to the assurance, hope, and fulfillment that is only found in Him.
Natalia Drumm
Natalia Drumm is an author, speaker and Bible study teacher with a passion for women's ministry. She is married to her husband of 14 years, Tim, and they raise their three boys in SW Florida, where they serve in their local church. When not running car pool, ministering at church, and working in her husband's business Natalia spends her time doing graduate studies at Dallas Theological Seminary and writes Bible Study resources for women.
About Our Emcee
Niki Hardy
Niki Hardy is a Brit in the USA, a rectal (yes, rectal) cancer survivor, pastor's wife, tea drinker and teller of bad jokes. As a speaker and the author of Breathe Again: How to Live Well When Life Falls Apart (Revell, Aug, 2019) she's all about meeting us when life's not fair and embracing the reality that with God, life doesn't have to be pain-free to be full. You can grab her free resources at NikiHardy.com and find more encouragement on Instagram @niki.hardy and Facebook @NikiHardyauthor
Price Deadlines
General Admission
Group General Admission (5+)
$23.00
Reserved
Reserved Seating is located behind/around VIP seating.
Reserved Group (5+)
$33.00
VIP
The VIP package includes premium seating, a copy of Into the Deep by Lauren Gaskill and Breathe Again by Niki Hardy.