This event is over.
She Found Joy 2019 Tour
Lauren Gaskill, Niki Hardy, Katie Reid, Gina Fox, Julie Swihart more
For more information
574-875-1152
Organized by Lauren Gaskill Inspires
Do you need a fresh outpouring of joy, hope, love and encouragement? Gathering as a sisterhood in God's presence can provide your soul with what it's longing for.
She Found Joy
is a one-night experience where women of all ages come together for a time of worship and teaching to rediscover an authentic joy in Jesus.
Come find community and rest for your soul; discover how to seek, live and give joy to a world that's so in need of it; and experience God's presence like never before.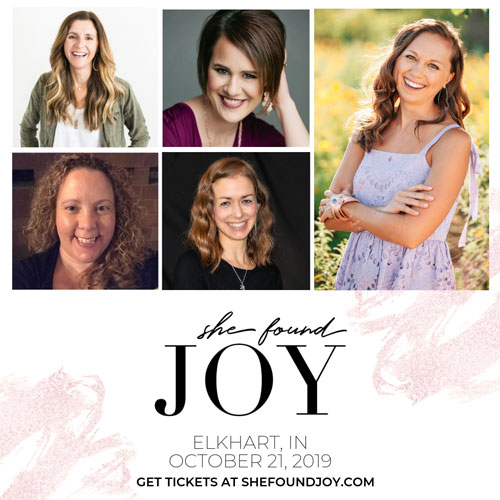 About Our Keynote Speakers
Lauren Gaskill
Lauren is the author of "Into the Deep: Diving Into a Life of Courageous Faith," a national speaker and the president of She Found Joy. She is passionate about helping others encounter Jesus in a way that refreshes their faith and fills them to overflowing with His love and joy.
Katie Reid
Katie M. Reid is a national speaker, Bible teacher, singer/songwriter, and author of Made Like Martha: Good News for the Woman Who Gets Things Done. She encourages others to find grace in the unraveling of life as they learn to walk freely—confident of God's love for them. Katie has been published on sites like: Focus on the Family, HuffPost, MOPS, (in)courage, TODAY's Parenting Blog, and Bible Gateway. She is a pastor's wife and mom to five (loud and wonderful) kids. Connect with Katie at: katiemreid.com.
About Our Panel Speakers
Gina Fox
Gina Fox is the Content Editor and Director of Outreach for She Found Joy. She is a blogger, writer and a nurse from North Canton, OH. Gina is married to Matthew, has 2 adorable furbabies, Sugar and Bandit, and 5 crazy nephews. She leads a connect group at her church for women of all ages. She has a strong desire for women to understand their purpose and know they are not alone. She has also helped launch around 100 books. She loves reading, dreaming of sitting on a beach, and listening to music and podcasts. Blog: ginafoxwrites.com, Instagram: @gfox2010, Facebook: Gina Fox
Julie Swihart
Julie Swihart is a homeschooling mother of three, and has been married to David fourteen years. She loves creating music on the piano, and shares new songs and training videos at playworshipsongs.com. https://www.playworshipsongs.com [5] https://www.facebook.com/learntoplayworshipsongs
About Our Emcee
Niki Hardy
Niki Hardy is a Brit in the USA, a rectal (yes, rectal) cancer survivor, pastor's wife, tea drinker and teller of bad jokes. As a speaker and the author of Breathe Again: How to Live Well When Life Falls Apart (Revell, Aug, 2019) she's all about meeting us when life's not fair and embracing the reality that with God, life doesn't have to be pain-free to be full. You can grab her free resources at NikiHardy.com and find more encouragement on Instagram @niki.hardy and Facebook @NikiHardyauthor
Price Deadline:
General Admission
General Admission
$29.00
Group General Admission (5+)
$23.00
Reserved

Reserved Seating is located behind/around VIP seating.

Reserved
$39.00
Reserved Group (5+)
$33.00
VIP

The VIP package includes premium seating, a copy of Into the Deep by Lauren Gaskill and Breathe Again by Niki Hardy.

VIP
$64.00