She Found Joy 2019 Tour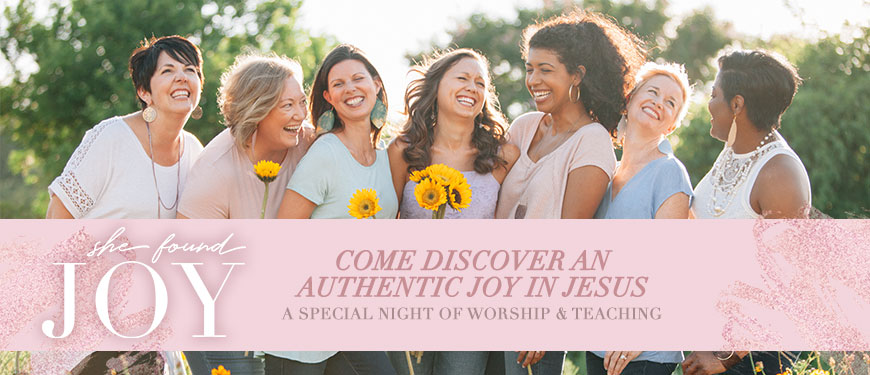 For more information
Organized by Lauren Gaskill Inspires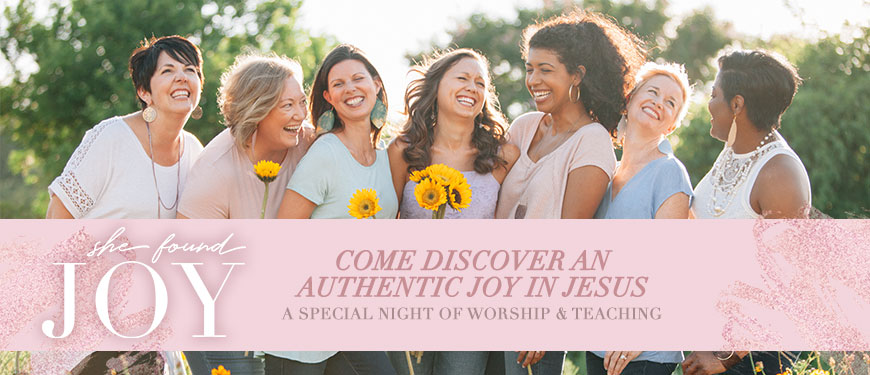 Do you need a fresh outpouring of joy, hope, love and encouragement? Gathering as a sisterhood in God's presence can provide your soul with what it's longing for.
She Found Joy
is a one-night experience where women of all ages come together for a time of worship and teaching to rediscover an authentic joy in Jesus.
Come find community and rest for your soul; discover how to seek, live and give joy to a world that's so in need of it; and experience God's presence like never before.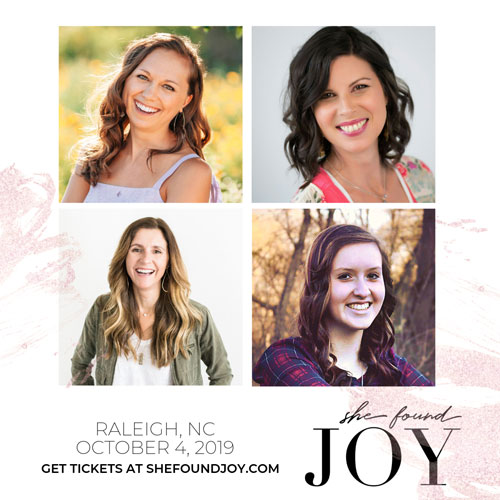 About Our Keynote Speakers
Heather Dixon
Heather M. Dixon is an author, speaker, and Bible teacher who understands living with a story that is not easy. Diagnosed with an incurable and terminal genetic disorder that she inherited from her mother, she is passionate about encouraging and equipping women to trust in God, face their greatest fears, and live with hope, especially in the midst of difficult circumstances. When she is not blogging at The Rescued Letters or speaking at women's conferences and events, Heather loves to make the most of everyday moments such as cooking for her husband and son, brainstorming all the possible ways to organize Legos and superheroes, checking out way too many library books, or unashamedly indulging in her love for all things Disney. Heather is a regular contributor to Journey magazine and the author of Ready: Finding the Courage to Face the Unknown and Determined: Living Like Jesus in Every Moment.
Niki Hardy
Niki Hardy is a Brit in the USA, a rectal (yes, rectal) cancer survivor, pastor's wife, tea drinker and teller of bad jokes. As a speaker and the author of Breathe Again: How to Live Well When Life Falls Apart (Revell, Aug, 2019) she's all about meeting us when life's not fair and embracing the reality that with God, life doesn't have to be pain-free to be full. You can grab her free resources at NikiHardy.com and find more encouragement on Instagram @niki.hardy and Facebook @NikiHardyauthor .
About Our Panel Speaker
Karsyn Whitt
Karsyn is a young, up-and-coming writer who is on fire for the Lord. After being diagnosed with CRPS and Hypermobile Ehlers-Danlos Syndrome, God lit a passion in her heart to help women know they are never alone in their pain and that joy can be found even when life seems hopeless.
About Our Emcee
Lauren Gaskill
Lauren is the author of "Into the Deep: Diving Into a Life of Courageous Faith," a national speaker and the president of She Found Joy. She is passionate about helping others encounter Jesus in a way that refreshes their faith and fills them to overflowing with His love and joy.
Price Deadlines
General Admission
Group General Admission (5+)
$23.00
Reserved
Reserved Seating is located behind/around VIP seating.
Reserved Group (5+)
$33.00
VIP
The VIP package includes premium seating, a copy of Into the Deep by Lauren Gaskill and Breathe Again by Niki Hardy.