This event is over.
She Found Joy 2019 Tour
Lauren Gaskill, Niki Hardy, Katie Reid, Tracy Steel, Shannon Popkin more
For more information
616-957-3110
Organized by Lauren Gaskill Inspires
Do you need a fresh outpouring of joy, hope, love and encouragement? Gathering as a sisterhood in God's presence can provide your soul with what it's longing for.
She Found Joy
is a one-night experience where women of all ages come together for a time of worship and teaching to rediscover an authentic joy in Jesus.
Come find community and rest for your soul; discover how to seek, live and give joy to a world that's so in need of it; and experience God's presence like never before.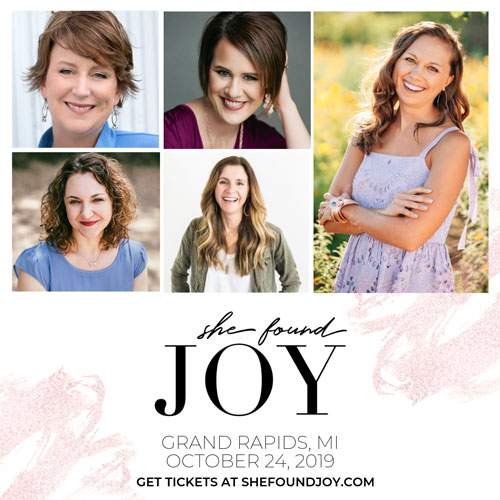 About Our Keynote Speakers
Tracy Steel
Tracy Steel graduated from Kansas State University with a BS in Interior Design in 1998. Eager to change her clients' lives by improving the interior space they occupied, she thought she had the blueprints for her future completed. In the midst of designing corporate spaces and sorting through fabric samples, Tracy fell in love with Jesus Christ and He changed everything. Since 2001Tracy has been involved in youth and women's ministry and served as the Director of Female Students from Scottsdale Bible Church from 2005–2007. In May 2019, Tracy graduated from Phoenix Seminary with a Master's Degree in Biblical and Theological studies, and is the author of Images of His Beauty and A Redesigned Life. But Tracy is most proud of her military man and of her two spirited kiddos that call her mama. To learn more about Tracy, please visit tracymsteel.com.
Katie Reid
Katie M. Reid is a national speaker, Bible teacher, singer/songwriter, and author of Made Like Martha: Good News for the Woman Who Gets Things Done. She encourages others to find grace in the unraveling of life as they learn to walk freely—confident of God's love for them. Katie has been published on sites like: Focus on the Family, HuffPost, MOPS, (in)courage, TODAY's Parenting Blog, and Bible Gateway. She is a pastor's wife and mom to five (loud and wonderful) kids. Connect with Katie at: katiemreid.com.
About Our Panel Speakers
Lauren Gaskill
Lauren is the author of "Into the Deep: Diving Into a Life of Courageous Faith," a national speaker and the president of She Found Joy. She is passionate about helping others encounter Jesus in a way that refreshes their faith and fills them to overflowing with His love and joy.
Shannon Popkin
Bestselling author and speaker Shannon Popkin loves to blend her gifts for storytelling and humor with her passion for God's Word. Shannon is the author of Control Girl: Lessons on Surrendering Your Burden of Control from Seven Women in the Bible. Shannon is also a contributing blogger at Revive Our Hearts and co-author of Influence: Building a Platform to Elevate Jesus (Not Me). Shannon is happy to be sharing life with Ken, who makes her laugh every single day. Together, they live the fast-paced life of parenting three high school and college-aged kids. For more from Shannon, please go to shannonpopkin.com, or connect with her on Facebook, Twitter, or Instagram.
About Our Emcee
Niki Hardy
Niki Hardy is a Brit in the USA, a rectal (yes, rectal) cancer survivor, pastor's wife, tea drinker and teller of bad jokes. As a speaker and the author of Breathe Again: How to Live Well When Life Falls Apart (Revell, Aug, 2019) she's all about meeting us when life's not fair and embracing the reality that with God, life doesn't have to be pain-free to be full. You can grab her free resources at NikiHardy.com and find more encouragement on Instagram @niki.hardy and Facebook @NikiHardyauthor
Price Deadline:
General Admission
General Admission
$39.00
Group General Admission (5+)
$23.00
Reserved

Reserved Seating is located behind/around VIP seating.

Reserved
$39.00
Reserved Group (5+)
$33.00
VIP

The VIP package includes premium seating, a copy of Into the Deep by Lauren Gaskill and Breathe Again by Niki Hardy.

VIP
$64.00