This event is over.
She Found Joy 2019 Tour
Lauren Gaskill, Gretchen Fleming, Niki Hardy, Christy Mobley, Lisa Appelo more
For more information
(850) 894-1403
Organized by Lauren Gaskill Inspires
Do you need a fresh outpouring of joy, hope, love and encouragement? Gathering as a sisterhood in God's presence can provide your soul with what it's longing for.
She Found Joy
is a one-night experience where women of all ages come together for a time of worship and teaching to rediscover an authentic joy in Jesus.
Come find community and rest for your soul; discover how to seek, live and give joy to a world that's so in need of it; and experience God's presence like never before.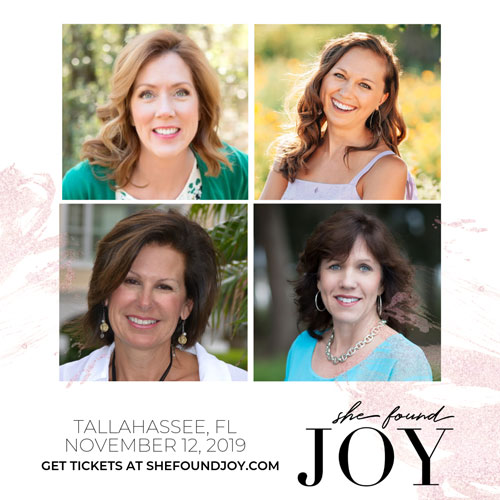 About Our Keynote Speakers
Christy Mobley
Christy is an award winning writer, national speaker, wife, mother, mother-in-law, and first time grandma! Her passion is in helping women develop a closer relationship with God by seeing Him at work in their lives. Christy also shares Lauren's joy theme in her blog, Joying in the Journey, christymobley.com. Though the blog was originally started as a dare from a friend, its name was birthed from a heart enjoying daily sojourns with the Savior. When Christy isn't speaking, writing, or playing with her grandson Henderson, you can find her on a tennis court somewhere, chasing a fuzzy yellow ball. You can connect with Christy on her blog, Joying in the Journey, Facebook, and Twitter Instagram, Youtube Heart: I love speaking and connecting with an audience. To see women "get it" that God really is near, waiting for them to engage with Him, well, that's the best high ever. Please support me by subscribing to my email and or inviting me to speak at your next women's conference or speaking event. Share the love.
Gretchen Fleming
Gretchen's passion is to follow hard after Jesus, knowing He is the treasure of a lifetime and worth every minute she commits to Him. God's Word has been life-changing for her through the most trying times—a great source of strength, wisdom, and truth. Active in women's ministry for over 25 years, she loves to see Jesus change lives as He's changed hers. As an international speaker, she has had the privilege of teaching women of an underground church in China and village women in Peru. She is an active national and local speaker for conferences, retreats and women's events. As a Bible teacher, Gretchen has written/taught Bible studies for the past 20 years. As a writer, she actively blogs through the chronological Bible at GretchenFleming.com . Her first book "Press On! Encouragement to Keep You Moving When You Feel Overwhelmed" is available on Amazon. Gretchen teaches and mentors women locally through her church, The Church of Eleven22, which is the sixth fastest growing church in the U.S. She also is a part of their curriculum writing team. Currently, she is on the board of Women for Christ, a ministry that brings speakers to Jacksonville to share the Gospel and encourage women in their faith. This ministry will celebrate 35 years in 2020. Gretchen is a wife of 30 years and mother of 3 young adult children. She lives in Jacksonville, Florida. Website: gretchenfleming.com, Instagram - @gretchenfollowinghard, Twitter- @followinghard, Pinterest- followinghard, Facebook - Gretchen Branstetter Fleming
About Our Panel Speakers
Lauren Gaskill
Lauren is the author of "Into the Deep: Diving Into a Life of Courageous Faith," a national speaker and the president of She Found Joy. She is passionate about helping others encounter Jesus in a way that refreshes their faith and fills them to overflowing with His love and joy.
Lisa Appelo
Seven years ago, Lisa Appelo became a sudden widow and single mom to 7. Having walked through this life-altering loss, Lisa inspires women to deepen their faith in grief and find hope in the hard. She's passionate about rich Bible study and teaches a weekly ladies Bible class at First Baptist Church, Jacksonville. Lisa is a former litigating attorney but her days now are filled with parenting, ministry, writing, speaking and running enough to justify lots of dark chocolate. Find her encouragement for faith, grief and hope at LisaAppelo.com and on Instagram @lisaappelo. Her family Advent devotion Countdown to Christmas: Unwrap the Christmas Story with Your Family in 15 Days was published last year.
About Our Emcee
Niki Hardy
Niki Hardy is a Brit in the USA, a rectal (yes, rectal) cancer survivor, pastor's wife, tea drinker and teller of bad jokes. As a speaker and the author of Breathe Again: How to Live Well When Life Falls Apart (Revell, Aug, 2019) she's all about meeting us when life's not fair and embracing the reality that with God, life doesn't have to be pain-free to be full. You can grab her free resources at NikiHardy.com and find more encouragement on Instagram @niki.hardy and Facebook @NikiHardyauthor
SPONSORED BY: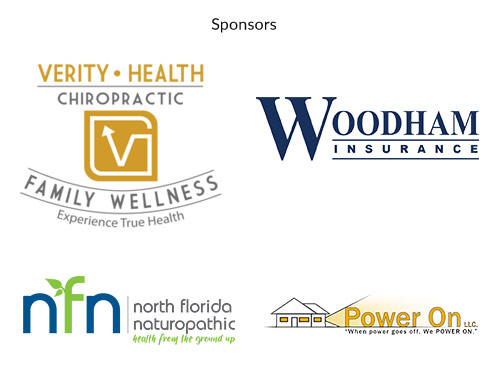 Price Deadline:
General Admission
General Admission
$29.00
Group General Admission (5+)
$23.00
Reserved

Reserved Seating is located behind/around VIP seating.

Reserved
$39.00
Reserved Group (5+)
$33.00
VIP

The VIP package includes premium seating, a copy of Into the Deep by Lauren Gaskill and Breathe Again by Niki Hardy.

VIP
$64.00