This event is over.
FREEDOM Gala: 'MYPILLOWS' Mike Lindell by Adult & Teen Challenge
Organized by Adult & Teen Challenge - North Dakota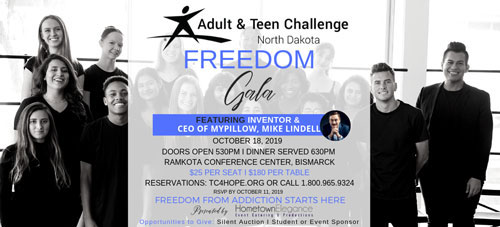 North Dakota Adult & Teen Challenge is getting ready for its annual Fundraising Gala (formally known as the annual banquet). This exciting night features a silent auction, the Freedom Choir made up of the students in the program, inspiring stories from former graduates of Teen Challenge and our Keynote speaker, Mike Lindell. Please come and enjoy a delicious catered meal amongst a beautiful setting all sponsored by Hometown Elegance and know that your presence and financial support all go towards changing the stories of individuals caught in the slavery of addiction. You are the story changers. You are the ones who make our work possible. Hope to see you there!
Price Deadline:
SPONSORSHIPS TABLES & DONATIONS Click on "Place Order" button to find more information on Special Perks for Bondage Breakers, Liberators, and Rescuers tables.
Or see second image above with "Sponsorship Levels" details.
Bondage Breakers - Table of 8
$5,000.00
Liberators - Table of 8
$2,500.00
Rescuers - Table of 8
$500.00
Supporters/ No-Show Table Donation
$175.00
GENERAL SEATING & TABLES
General Individual Seats
$25.00
General - Table of 8
$180.00