This event is over.
En Gedi Music Festival
Mandisa, Colton Dixon, Rhett Walker, 7eventh Time Down, Apollo LTD, Jamie Kimmett more
Mandisa

Colton Dixon

Rhett Walker

7eventh Time Down

Apollo LTD

Jamie Kimmett
For more information
269-689-7490
Organized by Creator's Praise Ministries
Mandisa

Colton Dixon

Rhett Walker

7eventh Time Down

Apollo LTD

Jamie Kimmett
Start Time: Friday 8:00 pm, Saturday 3:00 pm
Gates Open Time: Friday 5:00 pm, Saturday 12:00 pm
ABOUT EN GEDI MUSIC FEST

*SCROLL DOWN FOR CAMPING INFORMATION
Mission Statement: To EXCITE and INSPIRE all people to live as disciples of CHRIST!
En Gedi Music Festival is a two day Christian event featuring regional and national artists. You will enjoy a variety of national artists on the EGMF Main Stage for both days. Saturday brings added excitement when the Tentmaker Music Stage fires up with talanted regional and national artists!
The atmosphere of this festival is perfect for families, groups and individuals. Many people enjoy finding a shady spot and relaxing as they listen to and experience the many great artists. Others love to go up to the stage where they eagerly join in with singing, dancing and praising God with the artists!
While Covid 19 wreaked havoc to most music festivals in 2020, EGMF was thankful that God kept the door open for the En Gedi Music Fest. While we were impacted by things such as the inability of our anticipated food vendors to get their permits, social distancing, masks where distancing was not possible and other special precautions, we are on our knees thankful that God brought spiritual encouragement and healing to so many people who needed the message of the Gospel of Jesus Christ.
The 2020 theme of RECOVERY was brought into play well before the Carona Virus entered the picture. What a God given theme that was! This year's EGMF theme is REVIVE taken from Psalm 71:20
"You who have made me see many troubles and calamities will revive me again; from the depths of the earth you will bring me up again."
We can hardly wait to see the plans God has in bringing REVIVAL to, and through the Christian church to communities, families, and individuals.
Each year we invite Christian ministries to be a part of the festival. We feel it is one of our most important jobs to connect people to the churches and ministries that are all around them. With the side effects of Covid lock downs and precautions, many people are suffering physically, mentally, financially, emotionally and spiritually. The list, unfortunately, goes on and on, but we have a God who is knocking at the door. He wants to help us. He has provided people, communities of faith and ministries all around us, and we hope that you will be able to come to the En Gedi Music Festival and either connect with someone who needs your help, or be connected with someone who can help. Come, be uplifted and encouraged as you hear the music and testimony of Christian artists. Enjoy a weekend with your family and REVIVE!
CAMPING DETAILS
We are excited to welcome you to En Gedi Resort for the music festival camping experience! You will be onsite as much of the preparations are being made. See the festival come together first hand! Though we will not be able to offer activities from the canoe livery on festival weekend, there will be some Thursday evening activities designed just for you!
There are several important things you need to know before booking your campsite, so please read carefully!
Festival tickets are sold separately from the camping packages. You will need to have your tickets for check in to the camping area.
En Gedi Music Festival camping is a THREE night package. Check in will be on Thursday, July 22 after 2PM and departure on Sunday, July 25 before 9:30AM or after Sunday worship. There can be NO Friday arrivals or early departures. If you need to come and go throughout the weekend, you will be able to park a vehicle in the main parking lot.
NO pets (unless a registered service animal) are allowed in the camping area or at the festival. The level of activity and volume of the music is too much for them.
Per state regulations, each campsite is allowed one RV or up to two tents. An RV and tent may NOT occupy the same campsite. No sharing of power or water between sites is allowed.
Each campsite may have one vehicle aside from your tent or RV. If the vehicle does not fit onto the site pad or you need more than one vehicle, you will be able to park in the main parking lot.
NO marijuana (Unless for medicinal purposes, in non-smoke form)
NO alcohol
More campsites are likely to open up over the next few months. The rates will increase as the festival gets closer.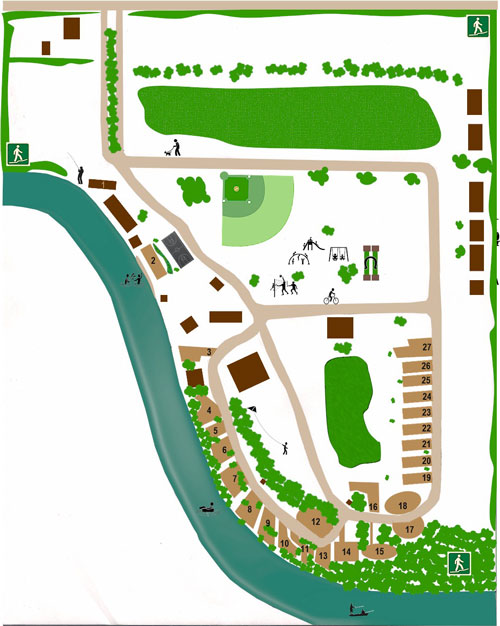 Prices:
ADVANCE ADMISSION 6 and under free with adult
Parking is $5 at the gate
1-Day Parking Pass
$5.00
Activity Add-Ons
Scavenger Hunt
$5.00
DAY OF ADMISSION
Friday Day of General Admission
$20.00
Saturday Day of General Admission
$40.00
CAMPING REGISTRATION
$0.00
Campsite #3
$225.00
Campsite #5
$150.00
Campsite #8
$150.00
Campsite #9
$225.00
Campsite #10
$225.00
Campsite #11
$150.00
Campsite #14
$150.00
Campsite #15
$150.00
Campsite #16
$270.00
Campsite #17
$150.00
Campsite #18
$270.00
Campsite #19
$270.00
Campsite #20
$270.00
Campsite #21
$270.00
Campsite #22
$270.00
Campsite #23
$270.00
Campsite #25
$300.00
Campsite #26
$300.00