Branson Praisefest 2022 - Spring (THUR-SAT) ENCORE EVENT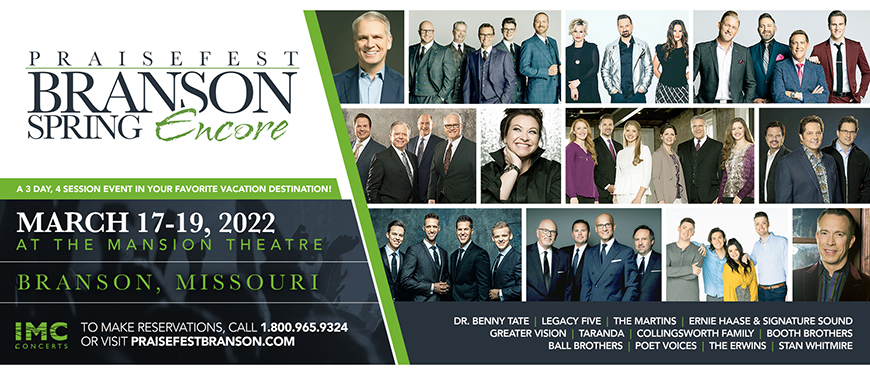 For more information
Organized by Innovation Management Consulting Concerts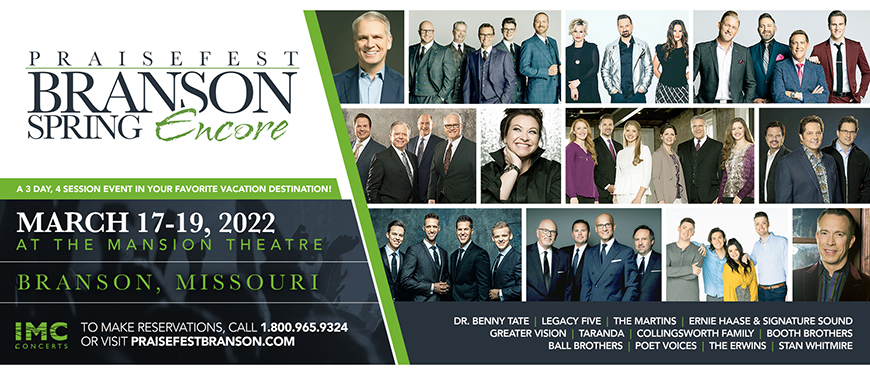 Praisefest is a 3 day, 4 session event with evening sessions beginning at 7 p.m. on Thursday and Friday Evenings. Morning sessions begin at 10 a.m. on Friday and Saturday and will conclude by 1:00 PM.THURSDAY EVENING: 7:00 PM (doors open at 6:00 PM)
Booth Brothers
Legacy Five
Greater Vision
The Hoppers
FRIDAY MORNING: 10:00 AM (doors open at 9:30 AM)
The Martins
Greater Vision
Dr Benny Tate
The Ball Brothers
FRIDAY EVENING: 7:00 PM (doors open at 6:00 PM)
Collingsworth Family
Phil Cross & Poet Voices
TaRanda Greene
Stan Whitmire
SATURDAY MORNING: 10:00 AM (doors open at 9:30 AM)
Ernie Haase & Signature Sound
Greater Vision
The Erwins
Legacy Five
ARTIST AND SPEAKERS are subject to change without notice or the reprinting of promotional material.
By purchasing these tickets, you the ticket buyer agree to follow all local and federal guidelines and/or mandates regarding health and safety at the time of the event, which could include but not limited to wearing a face mask.
This event is sponsored by IMC Concerts. On your credit card statement you will see this purchase thru IMC Concerts. iTickets, a secure website, is the technology provider with respect to the sale.
Click Here to find the best Music, DVD's, Soundtracks and CD's!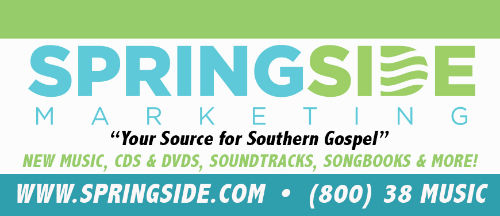 Price Deadlines
BRANSON PRAISEFEST ENCORE (THURS-SAT) - FULL EVENT PACKAGES
These packages include admission to all 4 events.
Gold Circle Full Event
$144.00
Mezzanine Full Event
$104.00
Mezzanine Full Event Child
$39.00
Mezzanine Full Event Group (20+)
$94.00
Balcony Full Event
$94.00
Balcony Full Event Child
$29.00
Balcony Full Event Group (20+)
$84.00
THURSDAY 7:00 PM SINGLE SESSION ADMISSION
Booth Brothers
Legacy Five
Greater Vision
The Hoppers


Gold Circle Thursday
$40.00
Mezzanine Thursday
$32.00
Balcony Thursday Child
$10.00
Balcony Thursday Group (20+)
$26.00
FRIDAY 10:00 AM SINGLE SESSION ADMISSION
The Martins
Greater Vision
Dr Benny Tate
The Ball Brothers


Gold Circle Friday 10am
$40.00
Floor Friday 10am Child
$12.00
Floor Friday 10am Group (20+)
$29.00
Mezzanine Friday 10am
$32.00
Mezzanine Friday 10am Child
$12.00
Mezzanine Friday 10am Group (20+)
$29.00
Balcony Friday 10am
$29.00
Balcony Friday 10am Child
$10.00
Balcony Friday 10am Group (20+)
$26.00
FRIDAY 7:00 PM SINGLE SESSION ADMISSION
Collingsworth Family
Phil Cross & Poet Voices
TaRanda Greene
Stan Whitmire


Gold Circle Friday 7pm
$40.00
Mezzanine Friday 7pm
$32.00
Balcony Friday 7pm
$29.00
Balcony Friday 7pm Child
$10.00
Balcony Friday 7pm Group (20+)
$26.00
SATURDAY 10:00 AM SINGLE SESSION ADMISSION
Ernie Haase & Signature Sound
Greater Vision
The Erwins
Legacy Five

Gold Circle Saturday
$40.00
Mezzanine Saturday
$32.00
Balcony Saturday Child
$10.00
Balcony Saturday Group (20+)
$26.00