When Faith Meets Therapy - Virtual Event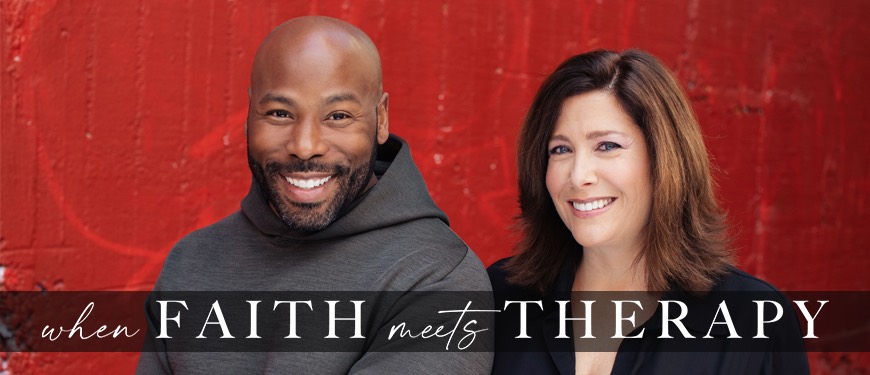 Join Grammy-nominated gospel artist Anthony Evans along with media personality and licensed psychotherapist Stacy Kaiser for When Faith Meets Therapy!

Using their expertise, honesty, vulnerability and authenticity, Anthony and Stacy will offer support and practical advice toward helping you create genuine growth and life change. In these 60-90 minute sessions they will specifically address the listed topics, answer your questions and will also offer you detailed and practical steps to help you heal and find your way to emotional and spiritual wholeness.

The live sessions have taken place and are now available as on demand. These therapeutic sessions are for anyone who wants to take the initiative toward personal growth and progress.

------------------------------------------------------------------------------------------------------

SESSION NUMBER AND TITLES:
Session 1: Overcoming Challenges and Trauma
Session 2: Finding, Maintaining and Nurturing Healthy Relationships.
Session 3: Overcoming Fear
Session 4: Living with Grief and Loss
Session 5: Dealing with Toxic People and Creating Healthy Boundaries
Session 6: Finding Your Inner Power and Creating The Life You've Always Wanted

------------------------------------------------------------------------------------------------------

ANTHONY BIO
For two decades, Anthony Evans has voiced the gospel with a melodic, thought-provoking style, and has emerged as one of Christian music's premier worship leaders and singer/songwriters. Along the way, Anthony has released ten solo projects, (the last two climbing all the way to #1 on Billboard's Top Gospel Album charts), released his first book, Unexpected Places, numerous music videos, acted in two movies, and performed as "Beast" in a Disney Hollywood Bowl production of Beauty and The Beast. In addition, he has collaborated on inspirational events with his father—beloved pastor and international speaker, Dr. Tony Evans, his sisters Priscilla Shirer and Chrystal Evans Hurst along with his brother- author and speaker Jonathan Evans.

In recent years, Anthony has been working in Los Angeles, where he appeared on NBC's The Voice. His time on the show led him to being discovered and enlisted to perform and produce vocals for various major networks. In addition to vocal production Anthony has been enlisted as talent producer for an assortment of popular reality and competition shows. This sojourn in LA has led him to think more progressively about his own music: he desires to communicate in terms that connect with people spiritually, no matter where they are in their journey with the Lord, without compromising his own faith and message. This focus, along with his powerful, one-of-a-kind voice, has allowed Anthony to vibrate the doors of the church and to venture beyond.


------------------------------------------------------------------------------------------------------

STACY BIO
Stacy Kaiser is a successful Southern California based licensed psychotherapist, author, relationship expert and media personality. With hundreds of television appearances on major networks including NBC, CBS, ABC, CNN and HLN, Stacy has built a reputation for bringing a unique mix of thoughtful and provocative insight to a wide range of topics. She maintains a thriving private practice while being a much sought after public speaker on a wide variety of topics, ranging from office, family, and personal relationship issues to trauma, sexual assault, and community related issues. In addition to her numerous television appearances, her expertise and perspective have been solicited by major corporations, public institutions, government agencies, philanthropic organizations and other media outlets, including recently working on Lifetime's Surviving R. Kelly and A&E's Undercover High. As a psychotherapist on Investigation Discovery's Fatal Vows, VH1's Celebrity Fit Club, Lifetime's DietTribe, parenting expert on The TODAY Show and Good Morning America, and regular guest expert on Steve Harvey and The Doctors nationally syndicated talk shows, Stacy Kaiser has gained a reputation for helping people face the truth that is holding them back from leading a life filled with a balance of responsibility, fun and freedom.

In her book "How to be a Grown Up – The Ten Secret Skills Everyone Needs to Know", Stacy opens with a provocative quiz that helps the reader gain insight into his or her current level of life mastery. She breaks down the reader's strengths and weaknesses, to guide them towards improving their life skills so that they can maximize their success and ultimately their life.

A passion for improving the lives of the underserved in her community led to Stacy's work with one of Southern California's premier family resource centers, where she worked with battered women, teen parents, abused children and families in crisis for over 20 years. She has also been engaged by organizations including the FBI, Los Angeles Fire Department, Los Angeles Police Department, Los Angeles Unified School District, Kaiser Permanente and Hughes Aircraft to implement workshops and handle third party mediations.


------------------------------------------------------------------------------------------------------

This event is sponsored by Sherman James Productions. On your credit card statement you will see this purchase thru Sherman James Productions.
Prices
2 SESSION COMBO PACKAGE
Ticket will include viewing to the first 2 sessions (sessions 1-2) as on demand & viewable until March 16, 2022.
Sessions 1-2 Combo Pack Viewing
$30.00
4 SESSION COMBO PACKAGE
Ticket will include viewing to 4 sessions (sessions 3-6) as on demand & viewable until March 16, 2022.
Sessions 3-6 Combo Pack Viewing
$65.00
Individual Sessions
You will have access to view each session as on demand until March 16, 2022.
Session 3: Overcoming Fear
$20.00
Session 4: Living with Grief and Loss
$20.00
Session 5: Dealing with Toxic People and Creating Healthy Boundaries
$20.00
Session 5: Finding Your Inner Power
$20.00