This event is over.
His Generation Summer Concert Presents Cory Asbury and Jordan Feliz
Cory Asbury, Jordan Feliz more
Cory Asbury

Jordan Feliz
For more information
(252) 573-3033
Organized by His Generation Outer Banks
Cory Asbury

Jordan Feliz
The concert will be held RAIN or SHINE
In the event of extreme weather conditions and the show is canceled (shows can not be rescheduled due to artists tour schedules), tickets will be refunded less processing fees.
Lawn seating only; you can bring your own chair or blanket.
Lawn chairs are available for rent on-site for $5 cash each
No Backpacks, No Coolers - No outside food or drinks, food vendors on site.ON-SITE PARKING:
Handicapped Parking FREE:
- There are 40 reserved handicapped parking spaces available, no parking pass purchase is required. Available on a first come first serve basis
-Refer to map for Handicapped parking
Priority Parking $30:
-On-site & close proximity to Soundside event
-Prior purchase required online
-Refer to map for Priority Parking
General Parking $20
:
-235 spaces available for presale
-Can be purchased online, any remaining spaces will be sold at the event
-Parking lots not open until 4:30pm and close at 7pm
-Please note: General parking requires some walking to the Soundside Event site (refer to map)
OFF-SITE PARKING
:
FREE Shuttle for Event
Please note no food or beverages will be allowed on the shuttles
.
NO COOLERS, NO PETS, NO CHAIRS, NO POP-UP TENTS WILL BE ALLOWEDNags Head Elementary School, Nags Head
3100 S Wrightsville Ave, Nags Head, 4:30pm - end of show
Nags Head Church
105 W. Soundside Rd, Nags Head 4:30pm -end of show
Coastal Family Church
106 E. Finch St., Nags Head 4:30pm - end of show
Shuttles run CONTINUOUSLY FROM EVENT SITE TO OFF-SITE PARKING LOTSTravel lightly and pack well. What you bring on has to fit in your lap
.
No pets will be allowed on the shuttles or on the event site.
No alcohol or coolers are permitted on the shuttles.
No food or beverages will be allowed on the shuttles.
Children 2 and Under are Free
(On lap for Priority Ticket Holders)
Entering the event
:
Only Shuttles will be allowed to drive into the event site. Individual vehicles will not be allowed to drop off passengers.
Walking
:
There will be designated crosswalks close to the event site for crossing Route 158.
Pedestrians may only enter at the main entrance, which is also where admission tickets are sold.
Please be mindful of signs, cones, and traffic control personnel to ensure your safety.
Bike racks will be available onsite, but please bring your own locks (no charge for bike parking).
ROUTE 158 IS A DANGEROUS ROAD, CROSS ONLY AT DESIGNATED CROSSWALKS.
Crosswalks
:
Grouse Street – across from main entrance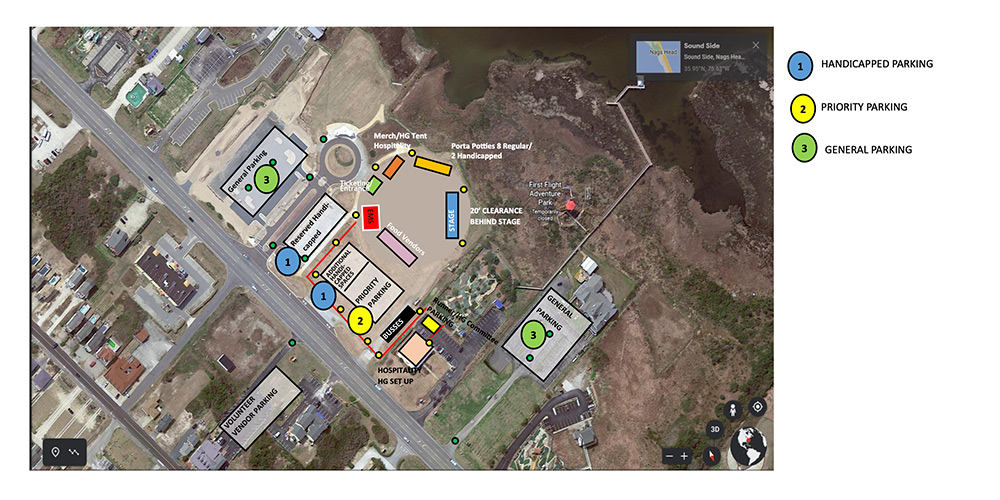 Prices:
Cory Asbury with Jordan Feliz Priority Admission: includes early entry from 5:30-6pm, reserved seating up front near the stage - includes lawn chair
Please note, this ticket DOES NOT include priority parking (parking passes must be purchased separately)
Priority Admission
$50.00
General Admission Day Of
$35.00
PARKING PASSES
General Parking
$20.00