WDTK FM101.5 & AM1400 The Patriot Presents The Battleground Talkers Tour: The Midterm Showdown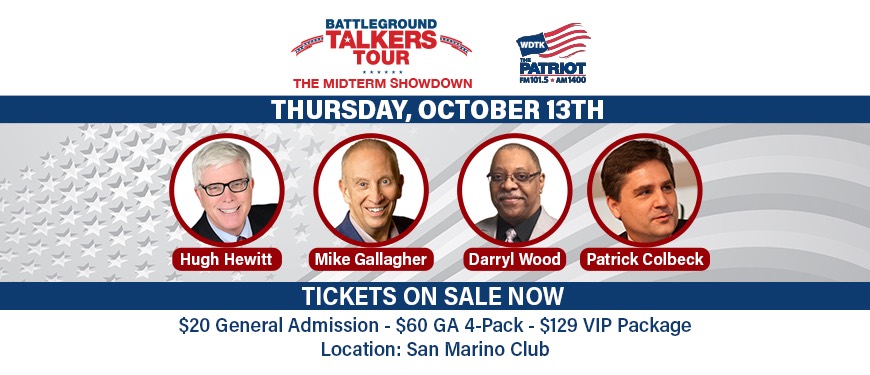 For more information
Organized by The Patriot WDTK FM101.5 and AM1400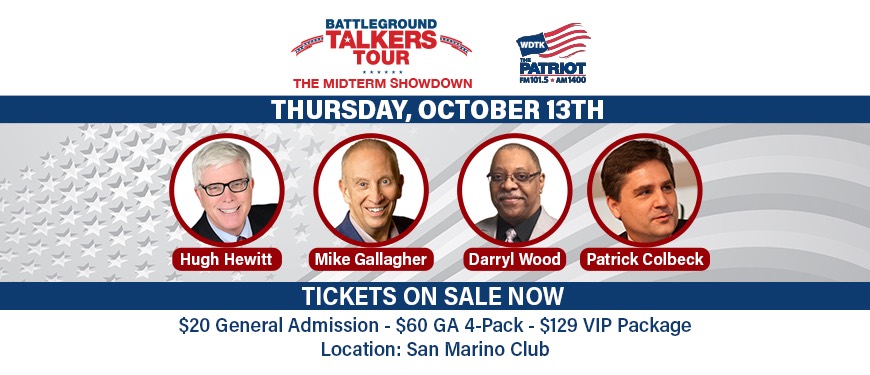 THURSDAY, OCTOBER 13 from 7:30-9:00 PM
Doors to San Marino Club for the VIP Event open at 5:15 PM
Doors to Main Event open at 6:30 PM

Click on PLACE ORDER to purchase tickets.

WDTK FM101.5 & AM1400 THE PATRIOT PRESENTS
THE BATTLEGROUND TALKERS TOUR: THE MIDTERM SHOWDOWN
Thursday, October 13th at San Marino Club, Troy

The coming election may be the most important election in the history of our country. The battle lines are drawn. The war for America's soul is on the line. This is your chance to help freedom win. The Patriot invites you to join us as we dissect this election and learn who is on the right side.

Featured speakers for the event are Salem Radio host Hugh Hewitt and Mike Gallagher, who will be joined in conversation with Patrick Colbeck, former MI State Senator and 2018 Gubernatorial Candidate and The Patriot's own Darryl Wood; host of 6 O'clock Talk.

The Battleground Talkers Tour will be something you never forget and could make the difference in the November election. Join us!

TICKETS ARE ON SALE NOW

$20 General Admission
$60 General Admission 4-Pack
$129 Battleground Talkers VIP Package includes:
- One premium reserved general admission ticket
- Meet & Greet with Hugh Hewitt, Mike Gallagher, Patrick Colbeck, and Darryl Wood
- Selection of hors d'oeuvres, complimentary wine, cocktails and soft drinks
- Commemorative Battleground Talkers VIP laminate

For those that purchase the Battleground VIP Package, event begins at 6:00pm, please arrive no later than 5:45pm For those that purchase General Admission tickets, doors open at 6:30pm

Click on PLACE ORDER to purchase tickets. Must purchase tickets in advance of the event. Tickets will not be sold day of at the event. NO DAY OF WALKUPS!

Event Location
San Marino Club
1685 E. Big Beaver
Troy, MI 48083


Questions, call 248-581-1217

Mark your calendar and save this date! In 2022, 36 out of 50 States will select Governors, including Michigan. You don't want to miss this event!

Featured Speakers:
Hugh Hewitt
Hugh Hewitt is one of the nation's leading bloggers and a genuine media revolutionary. He brings that expertise, his wit and what The New Yorker magazine calls his "amiable but relentless manner" to his nationally syndicated show each day. Hugh received national exposure when he was selected by CNN as one of the panelists for four of the 2016 Presidential debates.

Mike Gallagher
Mike Gallagher is one of the most listened-to-radio talk show hosts in America. Talkers Magazine reports rate him as one of the most influential hosts in America. Mike's passionate interaction with listeners and his fast-paced, fun delivery make his show appointment listening for millions. A blend of timely political commentary, compelling talk and terrific discussions on social issues and lifestyle topics.

Darryl Wood
Darryl Wood's career as a broadcaster is an expression of his interest in both the editorial and technical aspects of the broadcast arts. As host of 6 O'clock Talk, heard weekdays on The Patriot, Darryl takes a daily look at the news in a way you won't hear anywhere else. He brings listeners the day's news and trending topics, as only he can - with a unique blend of conservative opinion, constitutionalism, and thought-provoking analysis.

Patrick Colbeck
Former MI State Senator and 2018 Gubernatorial Candidate, aerospace engineer who has designed systems in operation on the International Space Station, certified Microsoft Small Business Specialist, founder of LetsFixStuff.org, and author of Wrestling Gators: The Insiders Guide to Draining the Swamp and his latest book, The 2020 Coup: What Happened. What We Can Do.
Prices
The Battleground Talkers Tour: The Midterm Showdown
VIP Includes: 5:15 pm early entry with one premium reserved GA ticket, Meet & Greet with Talkers, Selection of hors d'oeuvres & complimentary beverages, and commemorative VIP laminate
General Admission 4-Pack Sold in sets of 4 for $60
$15.00