Kingdom Legacy Live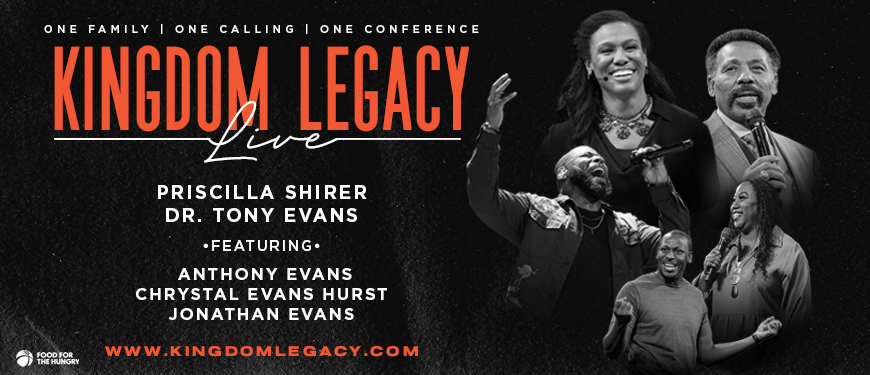 For more information
Organized by Sherman James Productions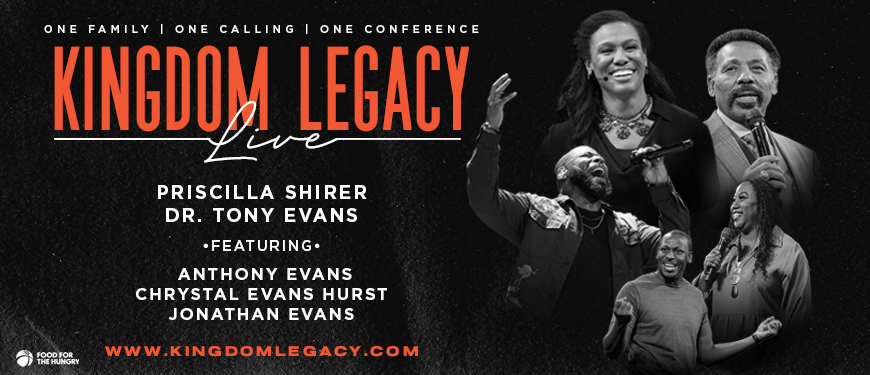 Join NY Times bestselling author, speaker and actress, Priscilla Shirer, bestselling author, pastor and legendary teacher, Dr. Tony Evans; along with-worship leader Anthony Evans, and authors Chrystal Evans Hurst and Jonathan Evans, for
KINGDOM LEGACY LIVE! KINGDOM LEGACY LIVE is an unforgettable conference that will be held March 31 through April 1, 2023, at Lakewood Church (in Houston TX). This one of a kind, two day conference will be a wonderful opportunity for you, your family and your friends, to gather with other believers for powerful, heartfelt worship, inspirational conversations, strategic prayer, and the unforgettable teaching of God's Word.
Join Priscilla Shirer, Dr, Tony Evans, Anthony Evans, Chrystal Evans Hurst and Jonathan Evans at KINGDOM LEGACY LIVE!
------------------------------------------------------------------------------
LIVE EVENT:
Friday, March 31, 2023
Doors Open: 6:15pm
Event Begins: 7:30pm
*PARKING WILL NOT OPEN BEFORE 6:00PM. DO NOT ARRIVE OR FORM A LINE AT PARKING LOT GATES PRIOR TO 6:00PM.
Saturday, April 1, 2023
Doors Open: 8:15am
Event Begins: 9:30am
*PARKING WILL NOT OPEN BEFORE 8:00AM.
CHILDREN:
- No childcare will be provided.
- Children 2+ must have a ticket.
- Children 2 and under must sit on your lap.
PARKING:
- Attendees' vehicles may be towed if they park prior to the appropriate times listed above and/or park in locations not identified as Lakewood Church parking
- Please obey all "Truck Loading Only" and "No Church Parking" signage where posted. You are subject to towing if parked in these areas.
Hearing Impaired: Please contact
[email protected]
to ensure seating accommodations.
------------------------------------------------------------------------------
STREAMING EVENT:
Event will begin at the following times:
Friday, March 31at 7:30pm CT
Saturday, April 1 at 9:30am CT
Replay Access will be available by Friday, April 7, at 5:00pm CT
30-day access passes will be good through Sunday, May 7, at 5:00pm CT
1 year access passes will be good through April 7, 2024, at 5:00pm CT