Finding Hope, Humor & Heart in Caregiving with Elaine Sanchez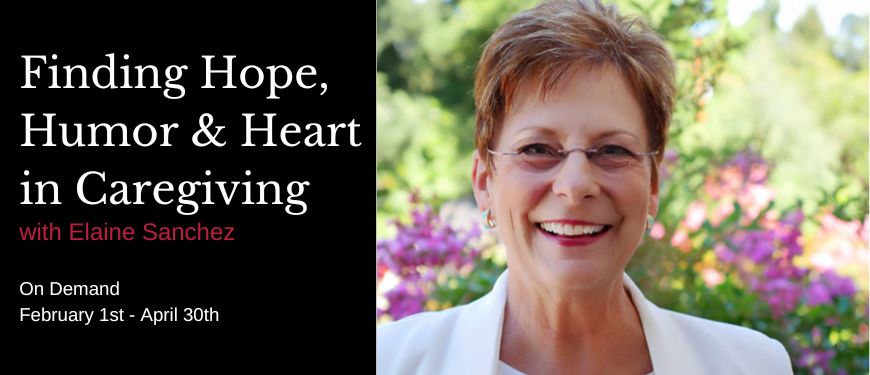 For more information
Organized by Thrivent Midwest Rockies Group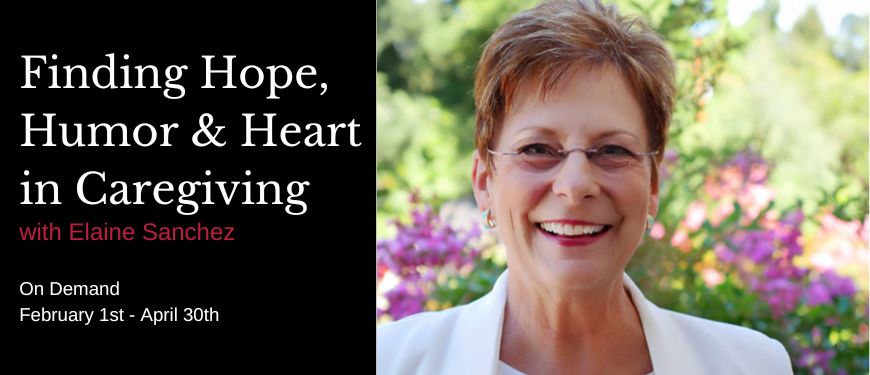 Join us for a free on-demand webinar series Finding Hope Humor & Heart in Caregiving with Elaine Sanchez. This series is for those who are caring for loved ones who can no longer care for themselves. You will laugh through your tears as Elaine shares real-life stories and practical self-care strategies that will help you manage the emotional stress of caregiving.
This series includes four one-hour recorded presentations that you can access and view for free from February 1st-April 30th, 2023. Watch all at once or come back to watch as many times as you'd like during that time.
Managing the Three F's of Flipping Out – Fear, Frustration and Fatigue
Fear, Frustration and Fatigue are three main contributors to caregiver anger. In this session, Elaine will share strategies that will help you:
• Identify and manage caregiver fear by controlling your thoughts, minimizing "What If" thinking and getting prepared for events that are likely to happen.
• Reduce frustration by setting firm boundaries and releasing your emotional attachment to the people, situations and events over which you have no control.
• Accept that perfection as a caregiver is not an achievable goal, that self-care is not selfish and that maintaining your physical, mental and emotional well-being will help you avoid burnout.
Giving Caregiver Guilt the Boot
Guilt can be a cruel and controlling emotion that is experienced way too often by most caregivers. In this session, Elaine will share strategies that will help you:
• Identify when guilt is and is NOT an appropriate emotional response.
• Recognize the behavior of guilt-trippers.
• Stop managing other people's feelings.
• Change your emotional response to guilt by changing your emotional vocabulary.
• Stop feeling guilty when you haven't done anything wrong.
Seven Strategies for Self-Care
It seems that no matter how hard caregivers try, how much they give or how many things they sacrifice, they feel like it's never enough. In this session, Elaine will help you become aware that it is not possible to care for another person 24 hours a day, seven days a week, 52 weeks a year without experiencing caregiver burnout. She will offer strategies that will help you:
• Accept your limitations.
• Embrace the concept that self-care is NOT selfish.
• Recognize how caring for yourself might be the most generous thing you can do for your care receiver.
• Develop a self-care plan that will help you care for yourself so you can continue to provide care for those who cannot care for themselves.
Ducks In A Row
Planning for disability and death is difficult in the best of times. It's especially difficult when the end is near. But when people avoid the conversations and fail to plan, they leave incredibly difficult messes for their loved ones to clean up. In this session, Elaine will share strategies that will help you:
• Start difficult conversations with your care receiver about how they want their finances and healthcare managed if they become incapacitated.
• Identify the critical end-of-life documents that need to be in place before people lose the capacity to make their own decisions.
• Understand end-of-life treatment options, including palliative care and hospice care.
No products will be sold. For additional disclosures see thrivent.com/social.
Prices
This is a Free Event, but virtual ticket(s) Are Required.
This event will be viewable on Wednesday, February 1st, 2023 at 12:00AM CST until 11:59 CST on Sunday, April 30th, 2023.