Unity Christian Music Festival 2024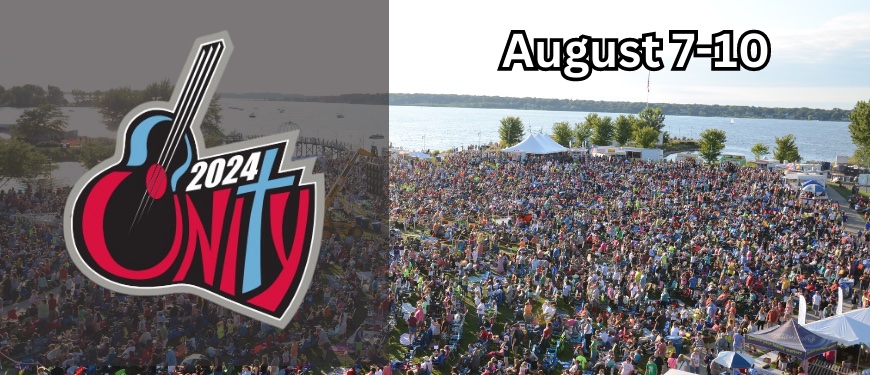 For more information
Organized by Unity Festival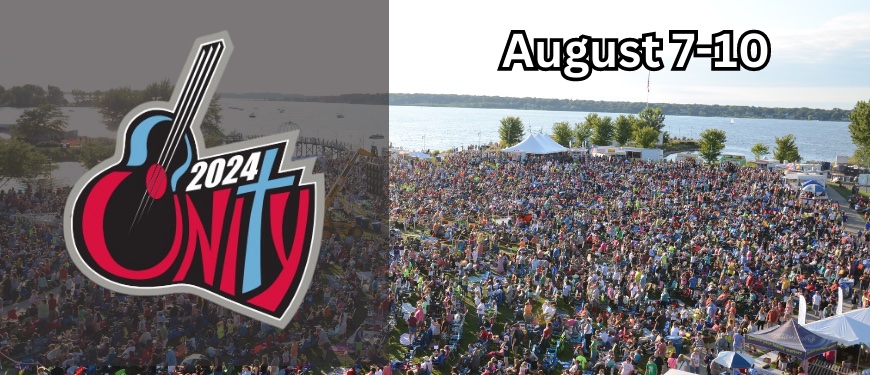 Unity General FAQ
Here are some general FAQs that relate to any year at Unity. Keep in mind that the specifics outlined in this FAQ may change as we get closer to the event and have a better understanding about any possible restrictions that may be imposed.
Children 5 & Under are free - no ticket or registration required
1. How will we know when, where and even if specific artists will be signing autographs and selling merchandise?
It is totally up to the discretion of performers and artists if they will be available for public meetings and signings. The performers are under no obligation to participate in these types of activities. Historically most Unity artists do meet with the public in the merchandise tent after their time on stage. Because we have no idea if artists will or will not participate, there will be no advance announcement. If you are interested in meeting with a specific artist, go to the main merchandise tent after they have completed their time on stage and check with merchandise volunteers.
2. Are coolers allowed at Unity?
Due to security and insurance rules, coolers are not allowed inside the festival grounds. Bags are subject to inspection at any time. Even though coolers are not generally allowed, we hope it will not cause a major inconvenience. Our family friendly prices are a crowd pleaser and much easier than lugging your cooler around anyway. Personal / purse-sized soft-sided insulated bags are allowed.
3. How do I contact "Alive on the Lakeshore" Board members or Unity organizing committee members?
The best way to reach us is by emailing:
[email protected]
. Call: 231-224-6034
4. Is there handicap seating and parking available at Unity?
We have developed a special
Unity Festival Handicap Parking and Access policy
to help communicate our commitment to serving the special needs of Unity guests.
5. What time do the gates open / when will I be able to get into the festival?
Wednesday gates open at 4:00 p.m. Thursday, Friday and Saturday gates open at 1:00 p.m.
6. How do I know who is performing at Unity this year? I read listings on the iTickets.com website and on apps like Bands In Town … are those "official"?
The information on the Bands In Town app and on iTickets.com and other third-party websites are sometimes out-of-date and even completely erroneous. For up-to-date information on who is performing at the festival, please check out our
event schedule pages
7. Are cameras allowed at Unity?
Our agreements with the artists and their management restricts the types of allowed cameras on the grounds. Only small, snapshot type cameras are allowed on the grounds. Any commercial cameras or cameras with interchangeable lenses will not be allowed on the festival grounds. Legitimate media representatives or commercial photographers must apply and obtain credentials BEFORE the event by contacting the
media and marketing coordinator
. When entering Unity Christian Music Festival you are entering a venue where still images, sound and moving images will be captured. By entering this Unity Christian Music Festival, you consent to having your image, video or audio captured, stored, edited and used to create derivative works by event staff, vendors and volunteers. The resulting materials and any derivatives of these materials may be used now and in the future by Alive on the Lakeshore, Unity Christian Music Festival and Unity Christian Events without restriction or financial compensation on the web, in social media, in traditional media, in print and transmitted via airwaves. The use of the material may include but not be limited to security, promotion and other purposes. All guests, volunteers, vendors, ticket holders and others on site waive their rights and license to any of this imagery. People not willing to submit to this release, should not enter the festival grounds.
8. What is the Unity Christian Music Festival?
The Unity Christian Music Festival is a four day festival, focused on the best in Christian music, but also including great food, fellowship and family fun! In addition to our three full days, Unity also includes a full night of totally free concerts during our Day Zero pre-event the Wednesday before the festival.
9. Why was the Unity Festival started?
The festival was started to bring Christians together for public praise, worship and fellowship; to provide a wholesome, family valued entertainment alternative and to raise funds and recruit volunteers for area Christian ministries.
10. Who puts the Unity Festival together?
The Festival is presented by Alive on the Lakeshore, a group of local Christians who want to present wholesome, Christ centered, family valued entertainment options in West Michigan.
11. Will there be seats or chairs? Or do we need to bring our own blankets and chairs?
There are no chairs or seats provided in the main concert stage areas – However, you are free to bring your own lawn chairs or blankets to sit on during the events! Please review out seating policy for additional information:
Seating Policy
12. Is there camping at Unity Christian Music Festival?
There is no on site camping space available but there are multiple options in Muskegon and surrounding area for camping. For more options visit our
lodging/ camping
page.
13. Are pets allowed at Unity Christian Music Festival?
No pets are allowed at Heritage Landing (the home of Unity Christian Music Festival).
14. Are wagons and carts allowed at Unity Christian Music Festival?
Because of limited space in the concert area wagons and carts are not allowed to be used or stored inside the main concert area. You can still use your cart / wagon to transport your kids, blankets, chairs, etc. to your seating area but it must then be moved back to your car or our designated cart corral. Foldable carts/wagons can be left under your seats in the concert area. Unity will provide an unmanned/unsupervised cart corral near the entrance gate. Watch for signs as you enter Heritage Landing or ask any usher for directions.
15. No weapons are allowed on the Unity Festival grounds
Price Deadlines
Unity Full Event Ticket
Full Event Th, Fr, Sa
$70.00
Unity Full Event Ticket
Full Event Th, Fr, Sa
$80.00