James Otto & Wyatt Durrette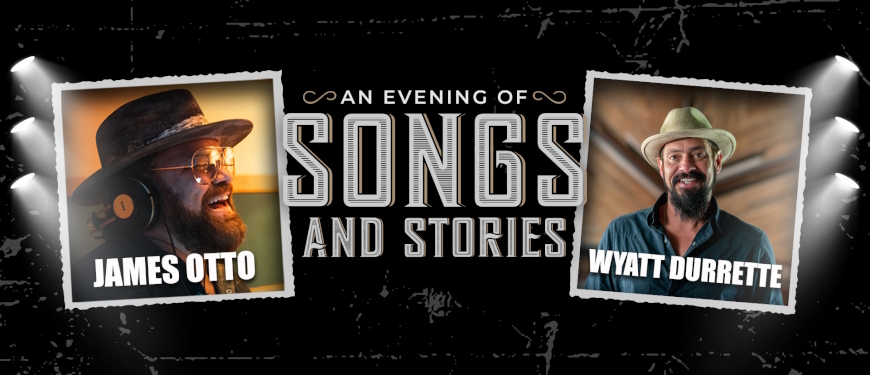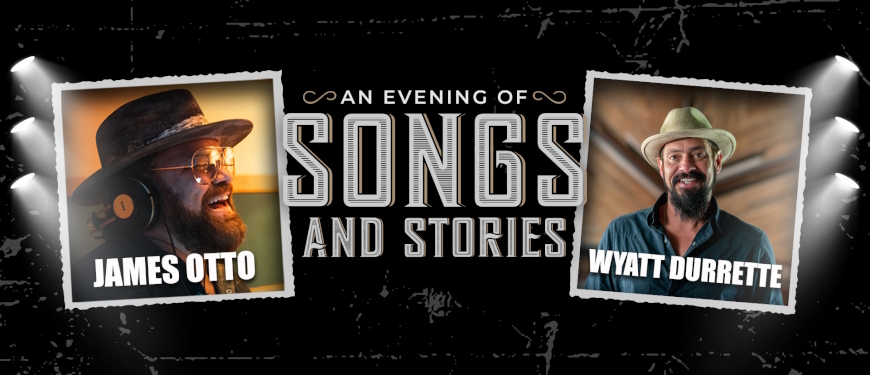 The Spotlight Series returns better than ever as award-winning singer/songwriters James Otto and Wyatt Durrette come together for an unforgettable night of songs and stories. During this unique night of acoustic music, James and Wyatt will be onstage together, telling the stories that inspired the hit songs they've written! This will be a night full of #1 hits and award winning songs, coming straight from the guys who put pen to paper and brought these stories to life. This is a Nashville-style listening room show where the audience will experience the talents of these artists like never before in a very intimate setting!

About James Otto: James Otto is one of the most distinct vocalists in Country music and is a 2-time GRAMMY nominated singer/songwriter. Once for his vocal performance on his breakthrough hit song "Just Got Started Lovin' You" which was the biggest hit in all of country music in 2008. The second nomination was for co-writing Jamey Johnson's "In Color," which also won both CMA and ACM "Song of the Year". Otto has written songs for many different major label acts including The Zac Brown Band, Darrius Rucker, Randy Houser, Chris Janson, Trace Adkins, John Anderson, Alabama, Confederate Railroad and many others. He's releasing a new album this year titled "Self Made Fool" which leans a little heavier on the soul side of his trademark "country soul" sound and has collaborations with Jamey Johnson, Randy Houser, Maggie Rose and others.

About Wyatt Durrette: Wyatt Durrette is an award-winning singer/songwriter from Richmond, VA. Best known for his work with Luke Combs and Zac Brown Band, Wyatt's songs have garnered a record-setting collection of hits.

Most recently, Combs' song "Even Though I'm Leaving" co-written by Wyatt, reached Number One and received SESAC's Song of the Year in 2020 along with a CMA Nomination. Their previous collaboration, Number One hit "Beautiful Crazy" received SESAC and CMA's Song of the Year in 2019 and has gone 10X PLATINUM, sitting at #1 for seven weeks and was one of the biggest songs of 2019. In total, more than forty artist song collaborations have led to over 10 BILLION digital streams, 24 MILLION singles sold, 10 MILLION albums sold, and 17 Number Ones at Country & Rock Radio. His songs have helped secure 8 GRAMMY Awards and countless nominations. Wyatt has been presented with the incredible honor of the CMA Triple Play Award not once, but twice, as Zac Brown Band's "Chicken Fried," "Whatever It Is," and "Toes" were all chart-topping hits within a twelve-month period, followed by "Highway 20 Ride," "As She's Walking Away," and "Colder Weather." He has received SESAC's Song of the Year award 3 times; in 2015 for "Homegrown," in 2019 for "Beautiful Crazy," and in 2020 for "Even Though I'm Leaving" a song Wyatt co-wrote with Luke Combs and Ray Fulcher.

Wyatt is showing no signs of slowing down, co-writing 5 songs on the new Zac Brown Band album "The Comeback" as well as Niko Moon's hit single "Easy Tonight."

Ticket Prices:
$50 VIP Reserved Seat (first 2 rows, includes drink ticket)
$35 Reserved Table Seat (purchased in groups of 6)
$25 General Admission Seat


NO REFUNDS * NO EXCHANGES * ALL SALES FINAL
Prices
VIP Reserved - 7:00 PM Doors
No need to stand in line to get a good seat! VIP Reserved gets you a guaranteed seat in the first two rows, prioritized by when order was received, plus one free drink chip per person! There are only 16 VIP seats, so tickets must be ordered in pairs.
Table - 7:00 PM Doors
Reserved table for six (6), prioritized by the when the order was received. Only available in advance.
Reserved Table (6+)
$35.00
General Admission - 7:00 PM Doors
General Admission Seating In Chairs Beginning with Row 3.